course works 2016-17
In 2015 the Club appointed Ken Moodie of Creative Golf Design to carry out a Course Review with a view to making recommendations for improving the golf course from both a strategic and aesthetic point of view, with a particular focus on bunker condition and positioning. The Club has aspirations to break into the Top 100 Golf Courses in the UK and view the bunkering as the weakest element of the golf course.
Following the successful redevelopment of the 14th fairway bunkers (see below), the Club Board agreed to continue the ongoing improvements on four holes 1, 2, 12 and 18 under the guidance of Ken Moodie.
The images below illustrate the full proposals for each hole.

Hole 1
We have taken out the two fairway bunkers and built one larger one, whilst the left hand bunker by the green has become a greenside bunker.
​
Hole 2
All three bunkers have been reconstructed with new bases.
Hole 12 ​
Ken Moodie: 'The 12th hole has all the ingredients of a very good par 3; an attractive setting, downhill aspect and some foreground interest. However, like with the 8th hole, a long frontal bunker guards the front of the green and offers no options for a golfer who is unable to carry the 140 yards that is required from the back tee or 100 yards from the ladies' tee, especially when the ball needs to hold on such a small green.
The left of the front bunker has been filled in by 8 yards or so, and the rest remodelled on a diagonal axis. This has allowed for a new area of approach to be cut where an accurate shot can land short and bounce onto the front of the green. If the shot is overstruck on this line it will run into the bunker beyond. To guard against a ball which is hit too far left we have introduced a new bunker on the left side as illustrated on the accompanying photomontage below.
The ground generally slopes from left to right on the approach which will tend to kick a ball which lands short towards the dense trees on this side.
The green falls away steeply to the back-right so we softened the slope to give a flatter collar allowing a little more margin for error.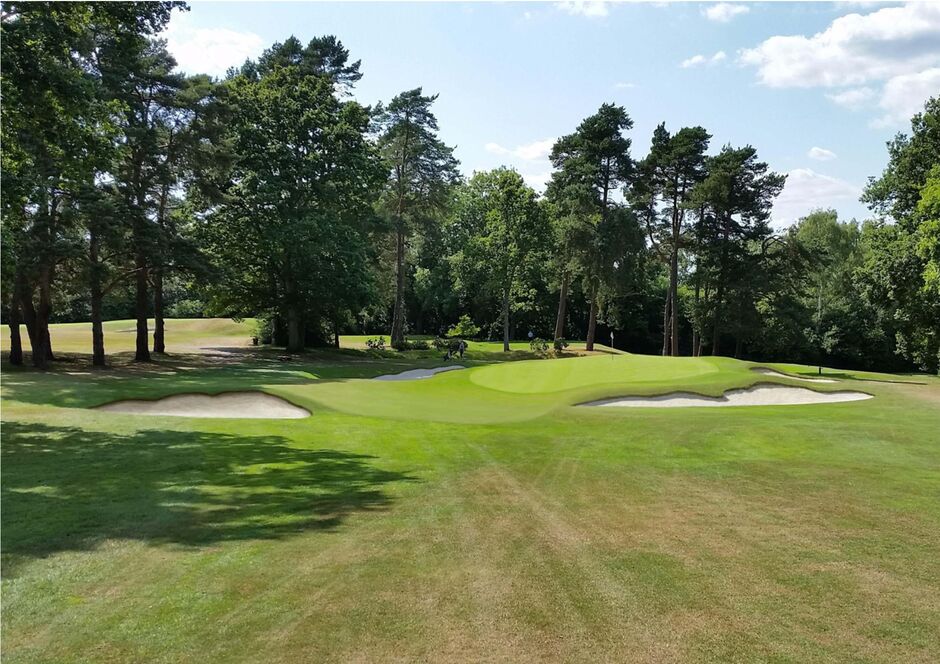 Hole 18
We decided to do the works around the 18th green and will not be adding any new fairway bunkering at this time. New mounding has been added short left of the green whilst a small strategic bunker is now short right of the green to catch those trying to get home in two. Both greenside bunkers have been redesigned and reduced in size.